The colourful world of Elżbieta Stanhope
20th July, 2017 - Words by Oleńka Hamilton
Her creations are completely unusual. And especially her 'practical but empty-headed women' as she calls them, which are classical style sculptures of women from the torso up to their noble faces.
Champagne flutes in hand, we skip up the stairs to the tune of Elżbieta Stanhope's mellifluous patter, ever engaging, always entertaining. It's a joy to be taken on the grand tour of her Highgate home by the lady herself who is perfect elegance, dressed in pale tights, strings of pearls and a jolly floral dress which goes in at the waist and poofs out. Her shiny black hair is pinned up, her skin clear as a porcelain doll's.
A prolific ceramic artist and potter, Elżbieta Stanhope has exhibited all over London and Poland, and in Dubrovnik, Croatia. Her artistic drive and talent came undoubtedly from her parents, both of whom were distinguished painters and instilled in their children a love of art. Their works hang in various rooms around her colourful home. 'My parents were wonderful people and I inherited their talent in a much more modest form,' she says.
Elżbieta's parents met at the school of painting in Warsaw where they fell in love. They went together to study in Paris where they married before having four children. Her father later supported the whole family single-handedly through his painting after they were forced to leave their home in Pecice after the war. 'An incredible achievement!' she says, and especially considering the difficult times in communist Poland. 'My poor and incredibly talented mother had to abandon her painting and look after the family and cooking was her least favourite activity!' she says. 'My childhood was blissfully happy, although it must have been an awful time for them.'
Elżbieta didn't go straight into pottery. She started out studying Polish literature but was uninspired by the teaching. Then one day, after reading some of Shakespeare's sonnets in translation, she decided she would study English literature instead, which she loved. As a result, she speaks English and Polish with equal fluency and nothing is lost as she flits between the two, which is remarkable for someone who wasn't bilingual from childhood. She came to ceramics by chance when a friend in London persuaded her to attend classes with her. 'It was instinctive and natural. I love clay,' she says.
Past the portrait of her mother painted by her father which hangs above the stairs, our first stop is the study, a tiny little room. It is a happy experience to be surrounded by a rainbow of books on their mahogany shelves, and by the vases and plates and the icons, portraits and paintings that hang on the walls. It doesn't feel crowded, which it might. Rather each object is like a window to another more interesting world. Everything in this house has a personal story, made all the more intriguing because Elżbieta is such a brilliant raconteur. I love the way she peppers her speech with chosen nuggets of French, which she also speaks fluently. 'Tout ca me depasse!' she says when I ask her about politics in Poland today. 'I don't understand anything about it. Every time I call friends in Poland someone is out demonstrating. It's not good.'
Icons painted by Elżbieta hang on the walls, and beautiful vases, also her work, stand in a line, two representing spring, one autumn and one winter. 'Summer is less interesting than spring,' she declares. Nature is a major inspiration in her work, which she puts down to the well-known extremities of the Central European climate she grew up in. 'The euphoria of spring after a freezing winter!' she recalls. 'In Poland we feel nature more strongly than here because there's always grass here.' Even the sofas and armchairs are upholstered with floral patterns, and two pairs of wonderfully eccentric floral wellington boots stand on display in the hall way.
Our next stop is Elżbieta's workshop which is outside. 'I am frileuse!' she declares with a shiver, pulling two of the finest fur coats I have ever seen out of a cupboard under the stairs for us to wear as we prepare to cross the garden to her studio. 'It's incredible,' she adds, 'there is no single word equivalent to frileuse in either Polish or English. Right, we're going to Siberia but we're brave Polish girls,' and we step out into the icy North London wind.
And in a tiny room overlooking her garden, magic happens. About a sixth of the space is taken up with a kiln which is elegantly swathed in gold when it's not being used. On the walls hang Santa Justa and a copy of a Velazquez of Santa Rufina, the patron saints of ceramics. Shelves are lined with pots and plates and vases and paintings. She shows me one of a series of the most fabulous sea-themed platters, made for a recent exhibition in Dubrovnik – a deep maritime-blue oval with gold and coral moulded around the rim to look like creatures of the sea. 'This is perfect for serving spaghetti vongole,' she says and then points me to a portrait of her dear friend the late Izabela Tarnowska. It's the only decent portrait she's ever done, she says, because Isabela had big eyes which made her easy to draw. 'It's good to have an awareness of what you do well and what you do badly. And this I do badly,' and if you wanted to argue you couldn't because her modesty is endearing rather than false.
Her creations, though clearly influenced by her travels across Europe, the Middle East and Asia, and especially Italy, China, Korea and Japan, are completely unusual. And especially her 'practical but empty-headed women' as she calls them, which are classical style sculptures of women from the torso up to their noble faces, golden ringlets in their hair, but with the tops of their heads sliced off to make room for flower pots. Flowers sprout from their empty heads! And the jugs: women from the neck up with the same distinguished features, looking wide-eyed yet serene, and with spouts growing out of their delicate coiffeurs. They are so charming and unique, I wish the collection were mine. On the way back out into the cold, she scoops a rather large black spider out of the sink with her bare hand and speaks English to it. 'Go outside,' she says, and it does and we follow.
I have seen and was influenced in my work by lots of beautiful sights – I feel I am truly a citizen of the world!' she says. She was able to travel thanks to her late husband Jack, an Englishman whose business took him all over the world. His birthday would have been on the day of my visit. They met when he replied to an ad she had placed in The Times offering her skills as a Polish teacher after she moved to London in the 1960s. He was an army intelligence officer who fought in Burma and later became a successful businessman. They had everything in common: Jack loved art, music, literature and travel as much as she did. 'When I came over to London in 1963, I wanted to live in the free world,' and if there were ever a free spirit, it is Elżbieta Stanhope.
Interview by Oleńka Hamilton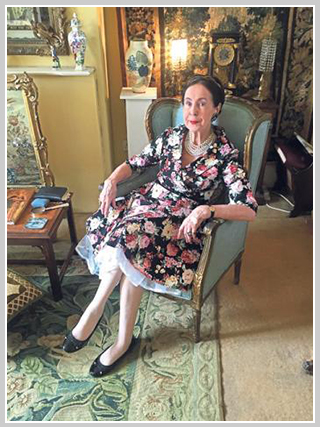 Image by Olenka Hamilton